Costco Chicken Flautas (Organic) + Air Fryer Recipe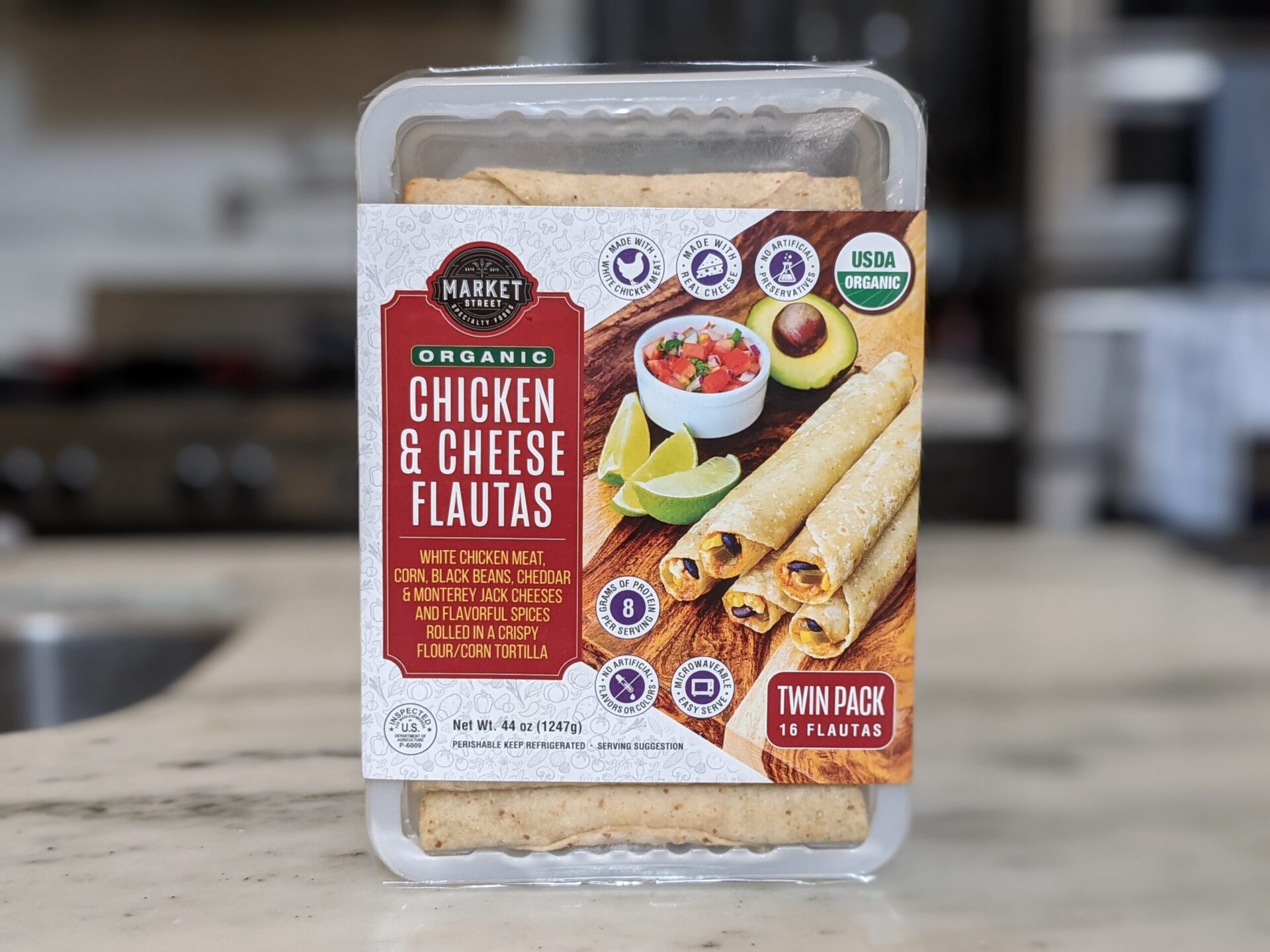 Chicken Flautas at Costco
Costco sells Market Street Chicken and Cheese Flautas for $14.89. These are available in the refrigerated deli section of the warehouse near other foods such as the mini tacos, pot roast, or the dips.

These flautas from Costco are made with white chicken meat, corn, black beans, cheddar & Monterey jack cheese, and flavorful spices.
They are organic and include no artificial flavors or colors, which is a nice touch considering how much processed food is already out there.

Have You Tried Costco's Chicken Flautas?
Let the rest of the Costco Food Database community know what you thought of this product. Results and reviews are at the bottom of this page.
Please allow 24 hours for review moderation and approval.
Is there a difference between flautas and taquitos?
So what exactly is the difference between a flauta and a taquito? From my life experience, I would have called these taquitos 10 out of 10 times. They are thin rolled up tortillas with filling, and to me, that is a taquito.


According to chef Gabriela Camara, the main difference between the two is that flautas are typically larger than taquitos and are made with flour burrito tortillas. In contrast, taquitos are made with corn tortillas.
The packaging labels these as flautas, but it also states they are made with a flour/corn tortilla. So are these really flautas, or are they also taquitos? Is the only differentiator going to be the size?
Costco also sells El Monterey Chicken and Cheese Taquitos, which look exactly like these flautas. From my memory, the taquitos are slightly smaller than these flautas, about 75% of the size. Mi flauta es no pequito taquito.
Costco Cost Comparison - Market Street Organic Flautas
Huge discounts when the chicken flautas are on sale!
These Costco flautas are on the pricey side at $14.89 for a 16-count package but will go on sale for $10.99. This is a savings of $3.90 or 26%.
At retail, each flauta goes for $0.93; when on sale, they cost only $0.69. The per-ounce price of these flautas at retail is $0.33 and $0.25 when the product is on sale.
There don't appear to be many refrigerated flauta products on the market, and I didn't find anything comparable from a quick search.
Costco Flautas vs Taquitos Price
Costco does sell frozen taquitos though and those go for $11.99. The package of frozen taquitos are sold in a 30 pack and each taquito breaks down to $0.40. Per ounce this is also $0.24. 
Costco's taquitos and their flautas each go for the same price per ounce when on sale, and to me, the better deal is the organic flautas that are minimally processed.
Costco Flauta Cooking Instructions
Market Street lists two different cooking or heating options for these flautas.
They are Microwave and Oven Cooking Directions
Place 2 flautas on a microwave safe plate.

Cook on high for 30 seconds.

Flip over and cook for additional 30 seconds.

Let stand for 1 minute before serving. 
Preheat oven to 375°F.
Place Costco flautas on a baking sheet and bake for 13-15 minutes or until golden brown.
Let stand for 1 minute before serving.
Costco Flautas Air Fryer Instructions
I personally prefer the air fryer to the microwave or oven baking most foods from Costco.
Unfortunately, market street doesn't provide any air fryer instructions for these flautas.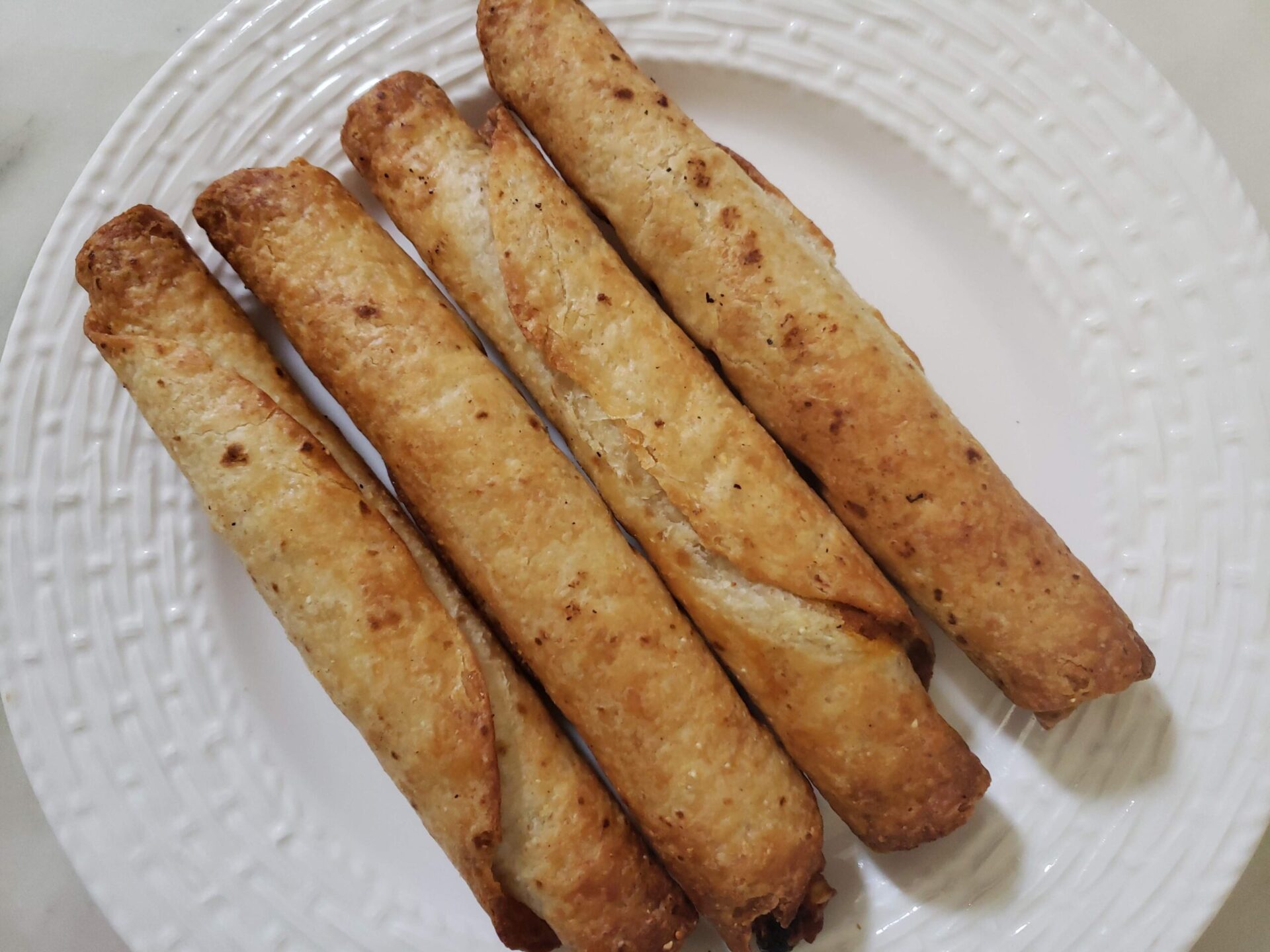 Here is how I cooked them in the air fryer:
Preheat Air Fryer to 375°F.

Spray with cooking oil and heat for 10 total minutes.

Flip/Roll the flautas after 5 minutes.
How many calories in the Chicken Flautas from Costco?
Each flauta is considered one serving and contains 190 calories. There are 6 grams of fat, 25 grams of carbs, and 8 grams of protein. The carbs are on the higher end and will add up quickly when eating multiple flautas.
Sodium is also on the higher side at 360 mg per serving or 16% of the recommended daily value. Something to keep in mind when eating multiple of these Costco organic flautas.

I hate to say it, but Costco's flautas were a letdown. I had high expectations for these flautas because the packaging touted the organic and natural ingredients used, in addition to refrigerated and not frozen.
I was expecting it to resemble a homemade flauta but instead got something much closer to a frozen food. The tortilla was great, but everything else fell flat. The filling was bland and filled with beans and corn. This is a pass for me.
Costco Food Database User Reviews
Have you tried this item? Let the rest of the Costco Food Database community know what you think. Leave a rating and review for this product. 
Costco Flautas - Super Crispy Recipe
The flautas from Costco are a fun and unique treat. Cook them up super crispy with this air fryer recipe!
Ingredients
6

Costco flautas

Salsa of your choice
Instructions
Preheat your air fryer to 375°F

Cook flautas for 10 minutes

Shake/Roll halfway through cook time
Nutrition
Serving:
1
Flauta
Calories:
190
kcal
Carbohydrates:
25
g
Protein:
8
g
Fat:
6
g
Saturated Fat:
1.5
g
Trans Fat:
0
g
Cholesterol:
15
mg
Sodium:
360
mg
Fiber:
2
g
Sugar:
1
g