Costco Plant-Based Breakfast Sandwich - Clever Marketing?
Alpha Plant Based Breakfast Sandwiches at Costco
Each box comes with 6 breakfast sandwiches that include an English muffin, vegan egg & cheese, as well a sausage-less patty.
This is essentially a vegetarian, meatless, plant-based version of Mcdonald's Sausage McMuffin with Egg.
Have You Tried Costco's Plant Based Breakfast SAndwich?
Let the rest of the Costco Food Database community know what you thought of this product. Results and reviews are at the bottom of this page.
Please allow 24 hours for review moderation and approval.
Plant based foods seem to be the hot new term right now, so what exactly does it refer to? 
Plant-based foods are foods that come from plants. This doesn't necessarily just mean vegetables but can also be from fruits, whole grains, nuts, and seeds. 

Plant-based protein refers to protein that comes from these same plant sources.
Plant Based Breakfast Sandwich at Costco
Alpha Plant Based Breakfast Sandwich from Costco has substituted out traditional sausage, egg and cheese, for plant based versions.

The sausage is a meatless version that is made from soy protein. The egg-less patty is made from mung bean protein while the cheddar cheese is made from various oils and starches.
Is Plant Based Just a Fancy Marketing Term for Vegetarian?
Something that's been bothering me lately is the use of the term plant based or plant based protein in a bunch of different foods.

In the past, items that have traditionally derived some protein from plants such as nuts or seeds have never marketed the item as plant based protein, but now its front and center on their label.
This goes for items such as granola, oatmeal, and many other items that may contain any sort of protein from vegetables or nuts.
Would You Buy a Vegetarian Breakfast Sandwich?
Alphas breakfast sandwich from Costco is actually just a vegetarian substitute breakfast sandwich. While all true that this a plant based sandwich, this breakfast sandwich would have been called a vegetarian breakfast sandwich just a few short years ago. 
Would there be less interest in this sandwich if it was just called a vegetarian breakfast sandwich? Would it still be sold in Costco if it was called a vegetarian breakfast sandwich instead of a plant based one?
Does Plant Based Protein Mean Anything?
A banana has 1 gram of protein. If I put a banana in my smoothie is it now a plant based protein smoothie? I'm sure that will sell a lot better than calling it just a banana smoothie. 
It seems that the term plant based is much more mainstream today than vegetarian ever was, and some companies seem to be hopping onto the plant based/plant based protein bandwagon to sell their items.
Costco sells the 6 pack of plant based breakfast sandwiches for $12.99. This breaks down to $2.16 per sandwich. 
This is an average breakfast sandwich price, but one of the more expensive options at Costco.
For comparison, Red's keto-friendly breakfast sandwich retails for $1.75 or $1.31 when on sale. The bacon gouda egg starbucks clone sandwich goes for $1.62.

While it is more expensive, Alpha's sandwich is also heavier and larger. On a per ounce basis, it is probably pretty close.

Costco Vs The Competition
None of the other major competitors to Costco sell this particular Alpha Plant Based Breakfast Sandwich. It seems to be only sold at Costco and select grocery stores.
My local grocery store, Tom Thumb, sells the sandwich for $3.99 each. This is nearly double Costco's price for the sandwich! 
Meatless Sausage Plant Based Breakfast Sandwich - Taste Test
The first thing I immediately noticed about the Alpha plant based breakfast sandwich is the smell. It smells like vegan/vegetarian food. 
It's not overwhelming, but it is very noticeable.
Visually the sandwich looks good. It's large, and the only big giveaway that this isn't a traditional sausage egg and cheese English muffin sandwich is the texture of the cheese and the egg when you open the sandwich. 
The cheese just didn't melt like traditional cheddar cheese does.
Taste is where the sandwich is a big letdown. The english muffin is fine, but the rest of the plant based sandwich is a little bland. 
The meatless sausage was lacking in traditional sausage flavor, and the cheese and egg didn't bring much to the table. It's never good when a mediocre English muffin is the best part about a breakfast sandwich.
There is also a prominent vegetable taste in the sandwich. The sandwich doesn't pack a lot of flavor, aside from the taste of the vegetables that are used to make the sausage, egg, and cheese. 

This is double disappointing because of the high amount of sodium. Where is the flavor?
Thing to Know: This sandwich contains 780 mg of sodium which is 34% of the recommended daily value. 
This is extremely high and Alpha even notes on the front of the box to check the sodium content on the nutritional label.
For me, this is just a vegan sandwich that is marketed now as a plant based sandwich.
The flavors aren't there, and this is a breakfast sandwich you will have to dress up with condiments to make enjoyable. Check out where this sandwich ranks on our Most Popular Breakfast Foods at Costco rankings.
Alpha Plant Based Breakfast Sandwich Cooking Instructions
Alpha offers one super easy cooking option for the plant based protein sandwich on the box, which is the microwave.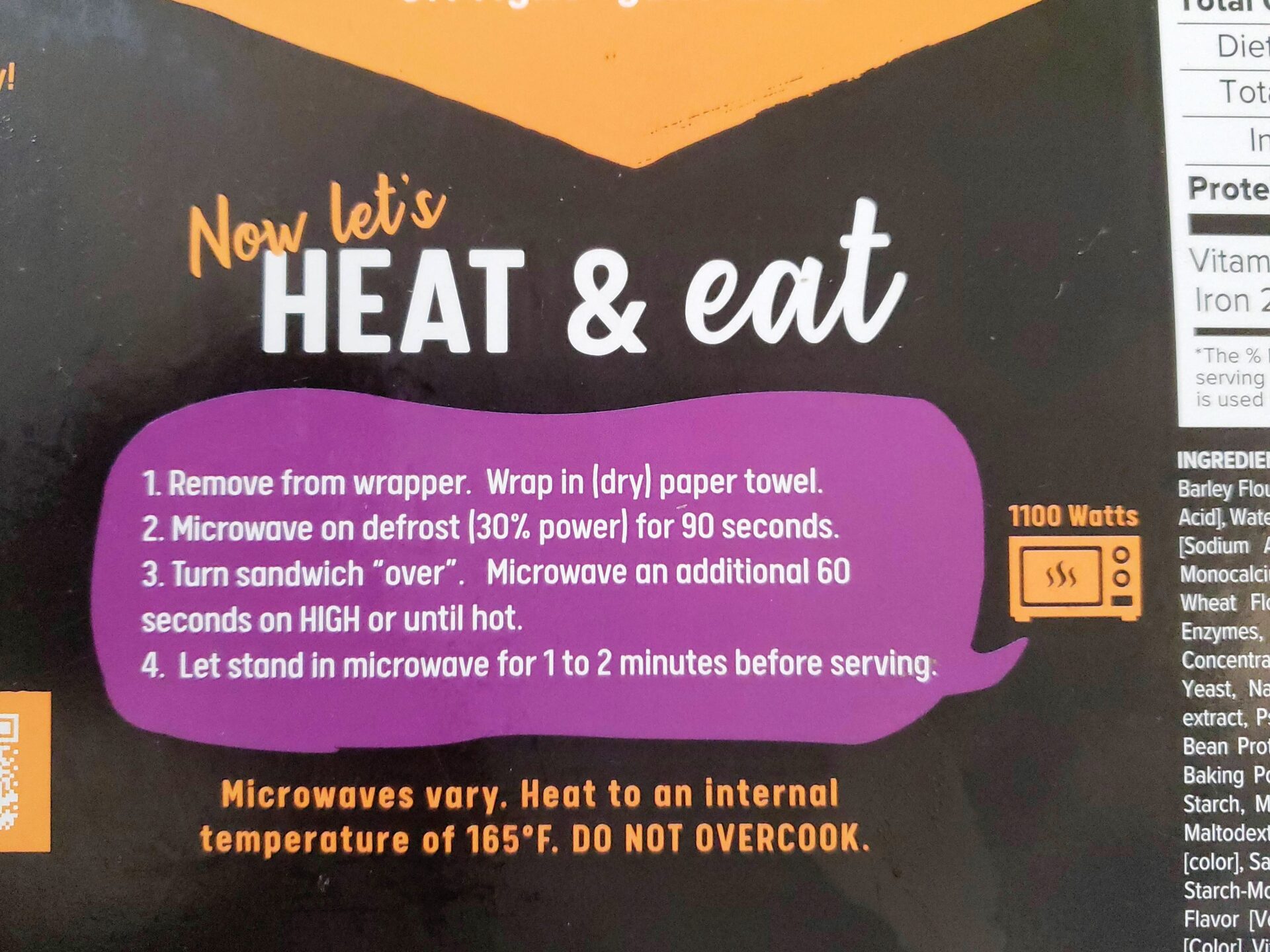 Their website does contain two other heating options of using the oven or air fryer to cook the sandwich.
Remove from wrapper. Wrap in a (dry) paper towel. 

Microwave on defrost (30% power) for 90 seconds.

Turn the sandwich "over". Microwave an additional 60 seconds on high or until hot. 

Let stand in the microwave for 1 to 2 minutes before serving.
Preheat the oven to 350°F.

Remove from wrapper, wrap in foil then heat for 20-25 minutes.

Open foil, continue for another 3-5 minutes until hot and crispy.
Preheat the AirFryer to 350°F. 

Remove from wrapper, break into 2 halves, put into air fryer buns down.

Heat for 6-8 minutes, reassemble sandwich and heat for another 1-2 minutes until hot and crispy.
Each sandwich contains 320 calories which come from 11 grams of fat, 39 grams of carbs, and 17 grams of protein. This is an extremely interesting nutritional profile for a few different reasons.
On a caloric and macronutrient level, this sandwich is on the high end. I was surprised to see how many carbs there were in the sandwich. The protein is a pleasant surprise at 17 grams considering this is a vegan breakfast sandwich. 

This sandwich will keep you full until lunch time!
Each plant based sandwich includes 780 mg of sodium or 34% of the daily recommended value. This is an extremely high amount of sodium, especially for a breakfast meal. 
This is not a sandwich that I would want to be eating on a daily basis. 
While not necessarily a warning or a disclaimer, there is enough sodium in this sandwich for Alpha to place a note on the box stating to check the nutritional label for the sodium content.
Costco Food Database User Reviews
Have you tried this item? Let the rest of the Costco Food Database community know what you think. Leave a rating and review for this product.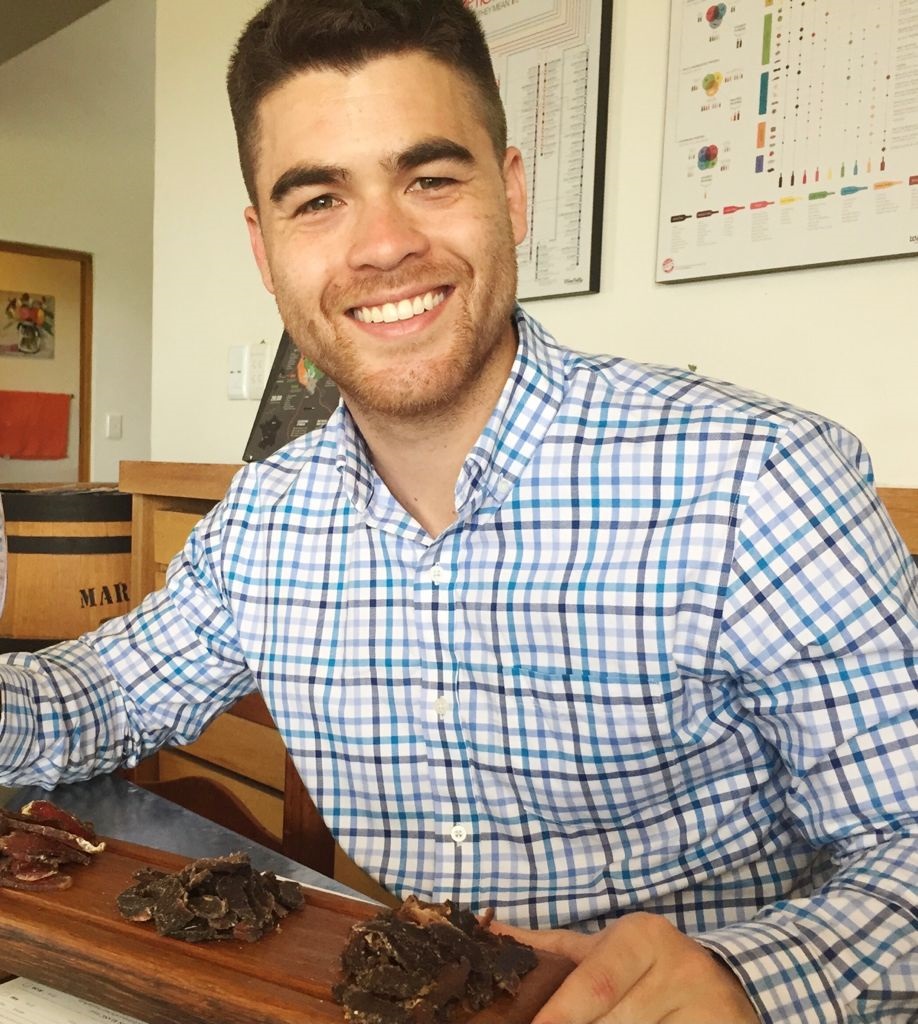 Greg Larkin is the founder and managing editor of Costco Food Database, the premiere site for honest takes on all things Costco food. A self-proclaimed Costco super-fan since childhood, Greg turned his obsession in a mission to properly rate and review all of Costco's delicious buys. When he's not busy navigating Costco aisles, you can find Greg smoking Kirkland Signature meats, meal prepping, or perfecting his homemade jerky recipes.