Costco Hashbrowns (Misleading Claims?) + Pro Tips & Recipes
These Costco Hashbrowns Potatoes from Idaho Spuds are delicious, affordable, and don't take up a lot of room in your pantry. Is that the Costco trifecta?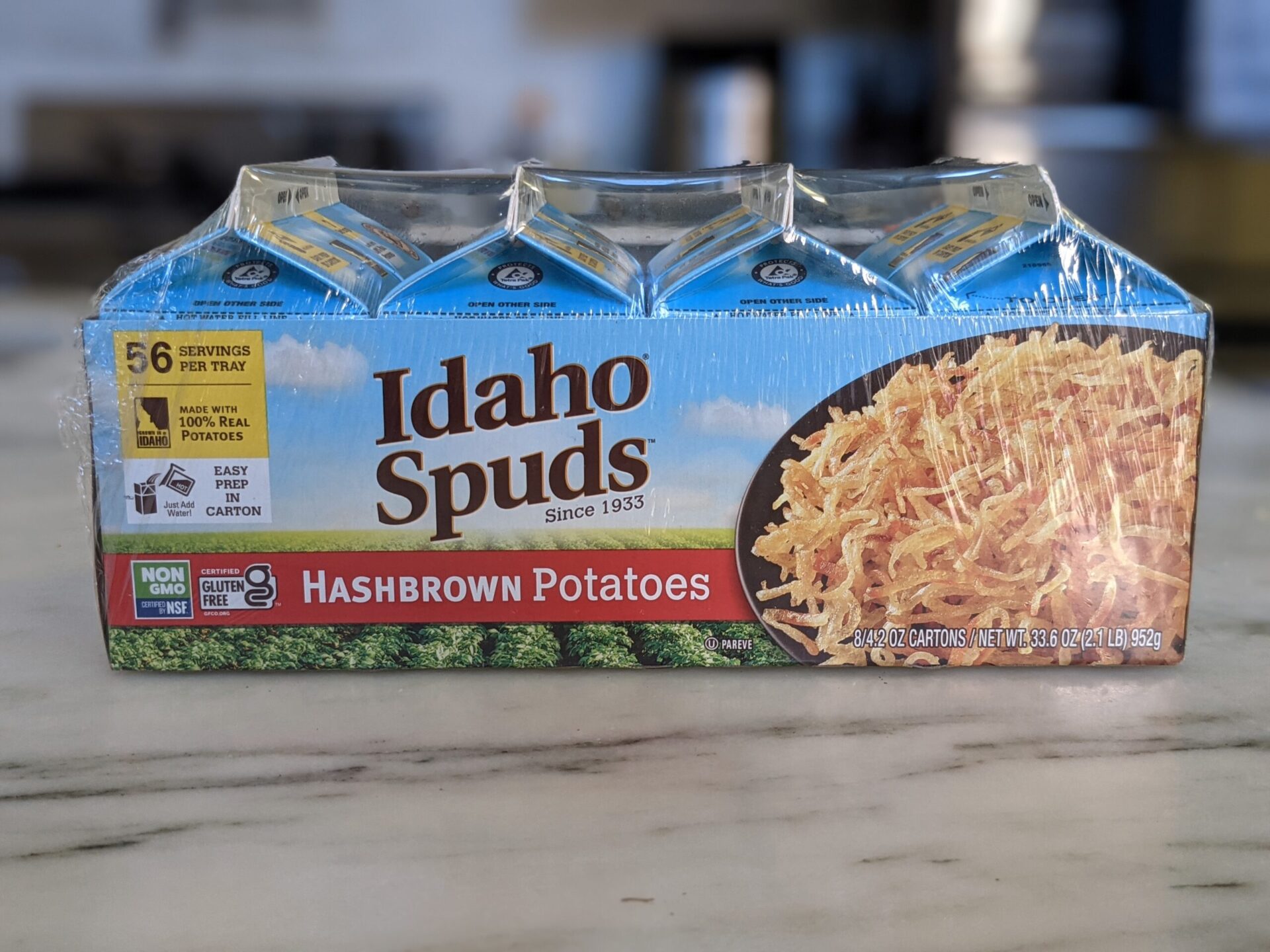 Hashbrown Potatoes at Costco
Idaho Spuds has been selling potatoes since 1933, and created this product to provide consumers a quick and easy way to have delicious hash browns at home. 
Have You Tried Costco's Dehydrated Hashbrowns?
Let the rest of the Costco Food Database community know what you thought of this product. Results and reviews are at the bottom of this page.
Please allow 24 hours for review moderation and approval.
These Hashbrowns are Easy to make
I love hash browns, but they can be a pain to make from scratch at home.
With these Idaho Spuds Dehydrated Hash Brown Potatoes, you simply have to fill the carton with hot water, drain, and then fry.
Hashbrowns can be a great way to transform a normal breakfast into a classic dinner experience.
Misleading Claims by Idaho Spuds
The package claims the potatoes can be ready in minutes, and I guess they can say that as long as it takes less than an hour.  
When I see that a product can be ready in minutes, I'm expecting a total time of less than 10 minutes. 
Anything more than that and I personally don't feel a company should be advertising it as "minutes" and should instead specify the approximate time.
These hashbrowns take 30 minutes to cook. 
Great To Have In The Pantry
As Costco members, I'm sure you know, freezer space can be limited sometimes. It's always nice to have frozen hashbrowns on hand, but sometimes it is more storage friendly to have dehydrated potatoes in your pantry.
Frozen hash browns can take a lot of room in the freezer and may only provide only a few breakfast meals.
With these Costco hashbrowns, you are going to get 8 cartons that have up to 7 servings each. This is a total of 56 servings for $6.89! 
In actuality, you can expect to feed about 16 people comfortably with the entire 8 carton package.
Costco Hash Browns Heating Instructions
How to Cook Costco Hash Browns
While it is easy to prepare these potatoes, they do take quite a bit of time. These Idaho Spuds are dehydrated potatoes and will need to be rehydrated before fried in oil.
Fill carton to Fill Line with Hot Water (At least 120° F)
Close the carton and let it stand for 12 minutes. Drain well. Caution: Contents will be hot.
Preheat a large pan and two tablespoons of oil over Medium-High heat.
Fry for 6 minutes, stirring thoroughly every 2 minutes. 
Before I go too far, I'm going to go ahead and ding these Idaho Spuds Hashbrowns right now. The claim of "ready in minutes" to me, is false and misleading. 
While maybe technically true, it takes 30+ minutes for me to make this meal and I would never say this item can be ready in minutes. 
First it takes 3-5 minutes to heat the water up to 120°, and then the potatoes must sit in the water for 12 minutes. I'll be generous and say that both steps can be done in 15 minutes total. 
Make sure to really drain the potatoes well, you want as little moisture as possible to create crispy hashbrowns. 
Pro Tip: I like to pinch the carton opening and really give the carton a good squeeze to take out as much water as possible.  
Step 4 of their instructions say to cook the hash browns for 6 minutes while stirring thoroughly. If you were to follow the instructions perfectly, I would say it's going to take a total of 21-25 minutes.
Now I don't think the actual cooking instructions are sufficient and there are a few things you can do to make these hash browns better. When I cook these, 6 minutes isn't even close to enough to create some adequate hashbrowns.
I'm cooking these for at least 6-8 minutes per side. There is so much excess water in these, that it does take a while for them to fry up. 
When I want hashbrowns, I want a real hashbrown experience and that means crispy, crunchy, and golden brown. So after cooking one side, I'll go ahead and flip them and cook the other side as well until they are golden brown on both sides.
Pro Tip: These are already pre-salted. Taste before seasoning.
Idaho Spuds Dehydrated Hashbrown Taste Test
While I do hate the fact that there are misleading claims on the packaging, I do actually like the hash browns. 
They aren't as good as frozen ones, and they definitely don't compare to a diner's hashbrowns, but they get the job done on a slow Sunday morning.

These Are Delicious When Crispy
They can be cooked to your liking, and when I make them, I want them as crispy as possible. It takes quite a bit longer to cook them this way, but they are much more enjoyable.
There is a crunch with every bite while the center still tastes like a potato.
For my taste, these are seasoned perfectly as is. My first few times I ate these I added seasoning and ended up with an inedible overly salty hashbrown.
These don't say anywhere on the packaging that they are salted except that salt is listed in the ingredient label.
In my opinion, this is something that absolutely must be mentioned on the packaging. Otherwise, you will have consumers like me blaming themselves for over-salting the food.
Great with Additional Flavors
These Costco hashbrowns do well with additional cayenne, paprika, pepper, or garlic seasoning. I enjoy eating these hashbrowns with Costco pasture raised eggs or egg whites, a breakfast protein and a healthy amount of tabasco.
Dehydrated Potatoes Nutritional Information
Misleading Amount of Servings
Idaho Spuds does claim that each carton contains 7 servings of hash browns. Look at the carton though and tell me if you really think there are 7 servings in there.
My wife and I alone will go through one whole carton for breakfast.
How Many Calories in Costco Hashbrown Potatoes?
Regardless, 7 servings, 90 calories in each serving with 4g of fat, 13g of carbs, and 1 g of protein. Since I use oil when cooking these, I'm going to use the nutritional information from the column that factors that in.
These are pretty expected macros and calories for a hashbrown. It's not a healthy food and that is ok. 
There is quite a bit of sodium in these. 250 mg of sodium per serving which is 11% of your recommended daily value. Each carton of potatoes in total will have 1750 mg of sodium, which is 77% of your daily value. These are extremely high in sodium and no additional salt is needed to enjoy these. 
We have these maybe about once every 2 weeks, because they aren't a food that should be eaten regularly.
It's hard to beat a bacon, egg, and hashbrown breakfast. With these Idaho Spud dehydrated hashbrowns from Costco, you can easily make hash browns anytime you like. 
In the CFDB household, we have an all day breakfast policy, and if we're making breakfast for dinner we're including these hashbrowns. 
These are a great buy at Costco. They are easy to make, don't take up a lot of storage space, and very tasty. They just don't need any additional salt! 
Costco Food Database User Reviews
Have you tried this item? Let the rest of the Costco Food Database community know what you think. Leave a rating and review for this product.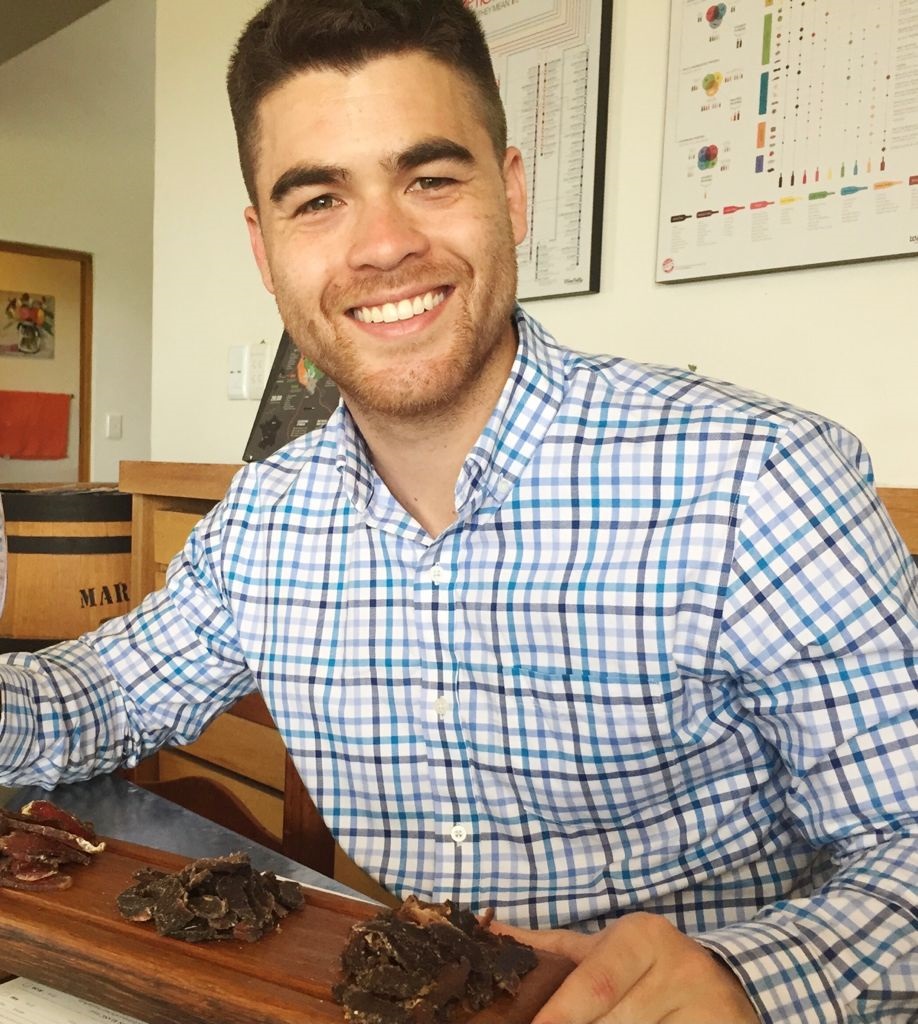 Greg Larkin is the founder and managing editor of Costco Food Database, the premiere site for honest takes on all things Costco food. A self-proclaimed Costco super-fan since childhood, Greg turned his obsession in a mission to properly rate and review all of Costco's delicious buys. When he's not busy navigating Costco aisles, you can find Greg smoking Kirkland Signature meats, meal prepping, or perfecting his homemade jerky recipes.