Costco Tiramisu Cups - (Amazing) + 6 Reusable Glass cups
Dessert Italiano Tiramisu Cups at Costco
Costco sells a 6 pack of Tiramisu cups for $9.99. The Tiramisu Cups can be found in the refrigerated deli area of the store, often at one of the end caps.
 
They are near other items such as the Pesto, Lobster Ravioli, and the Egg Bites.
Have You Tried Costco's Tiramisu Cups?
Let the rest of the Costco Food Database community know what you thought of this product. Results and reviews are at the bottom of this page.
Please allow 24 hours for review moderation and approval.
Tiramisu is a coffee-flavored dessert originally from Italy. A typical tiramisu includes ladyfingers dipped in coffee and layered with whipped egg, mascarpone cheese, and topped with cocoa powder.

Traditionally tiramisu will also include a small percentage of alcohol which comes from Marsala wine. Costco's tiramisu cups only have 0.20% alcohol, which is a minuscule amount.

Tiramisu is an Italian dessert, so it is nice that the Tiramisu Cups are made and imported from Italy.

Costco Cost Comparison - Tiramisu Cups
How Much Do The Tiramisu Cups at Costco Cost?
Costco sells these tiramisu cups for $9.99 at retail and $6.99 when they are on sale. This is a huge discount of 40% and brings the retail price per cup down from $1.67 to $1.17.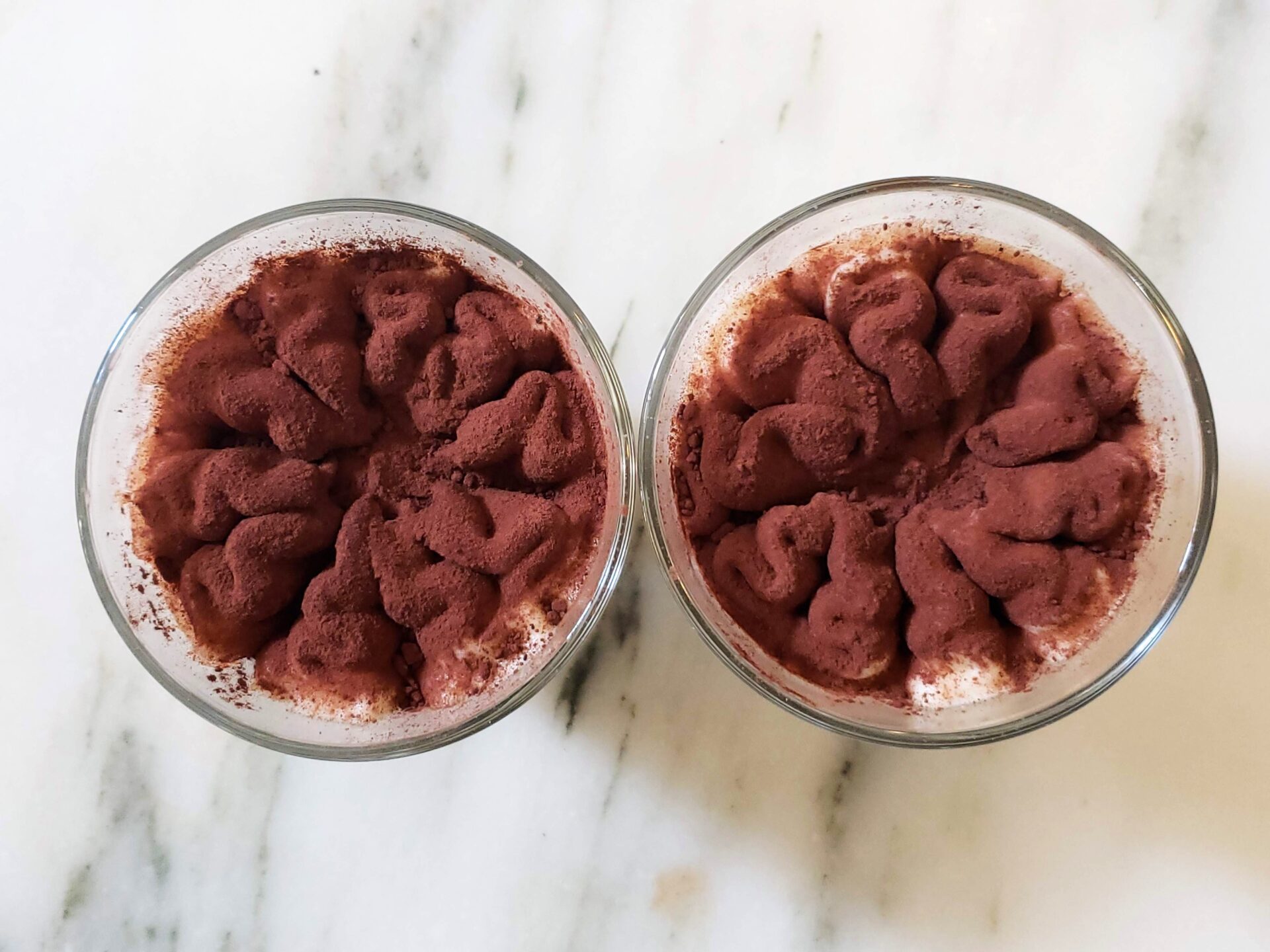 It would be tough to find better value at Costco's $1.17 price, especially considering the glass cup and the overall appearance of the dessert. 
The presentation is so great that I would have no problems serving these tiramisu cups at a dinner party.
This appears to be another Costco exclusive item, and from a quick google search, it seems rather difficult to find any type of similar tiramisu cup.

Costco Tiramisu Taste Test
Tiramisu is typically made with ladyfingers which are essentially spongey biscuits, but unfortunately, the Tiramisu from Costco uses a sponge cake instead of the ladyfingers.

The presentation for these tiramisu cups is fantastic. The cups themselves look great, and you can clearly see the layers of thick coffee syrup, mascarpone, sponge cake, and cocoa.
I do have to say that the Tiramisu has a heavy handed layer of cocoa powder dusted on top of the tiramisu.
It's almost a must to eat dessert cups vertically instead of scooping spoonfuls off the top because of the cocoa.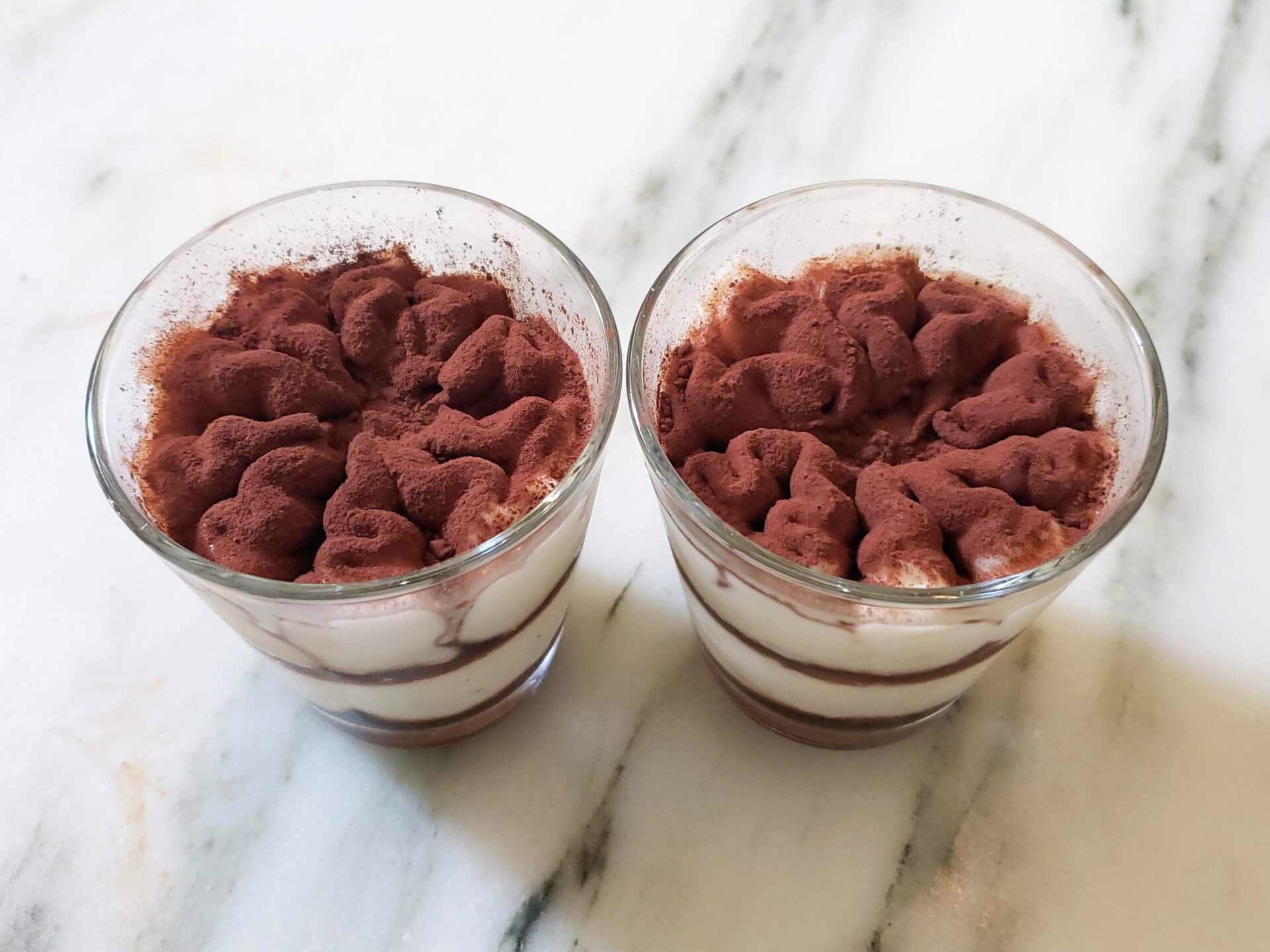 I like to dig my spoon deep into the cup and spoon out a small serving of all the tiramisu layers.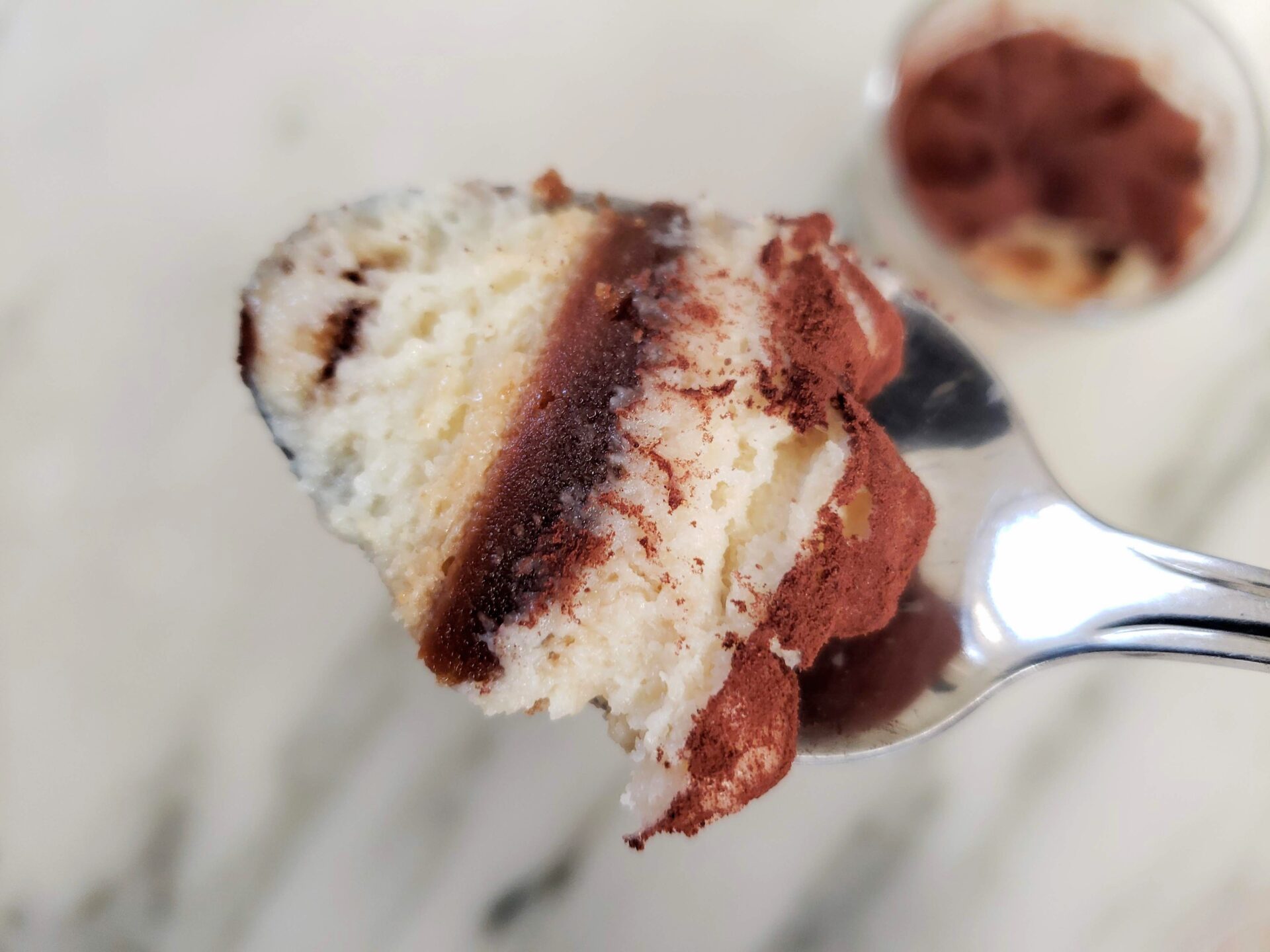 It makes the dessert much more enjoyable and helps portion the cocoa powder, so it doesn't create an unpleasant and overwhelming bite. 
Excellent Tiramisu Dessert
Overall, the tiramisu was pretty good but not award-winning. The flavors blended together really well, but the lack of ladyfingers really altered the overall texture.
Instead of feeling like a tiramisu, the dessert felt like a mushy pudding with different texture layers.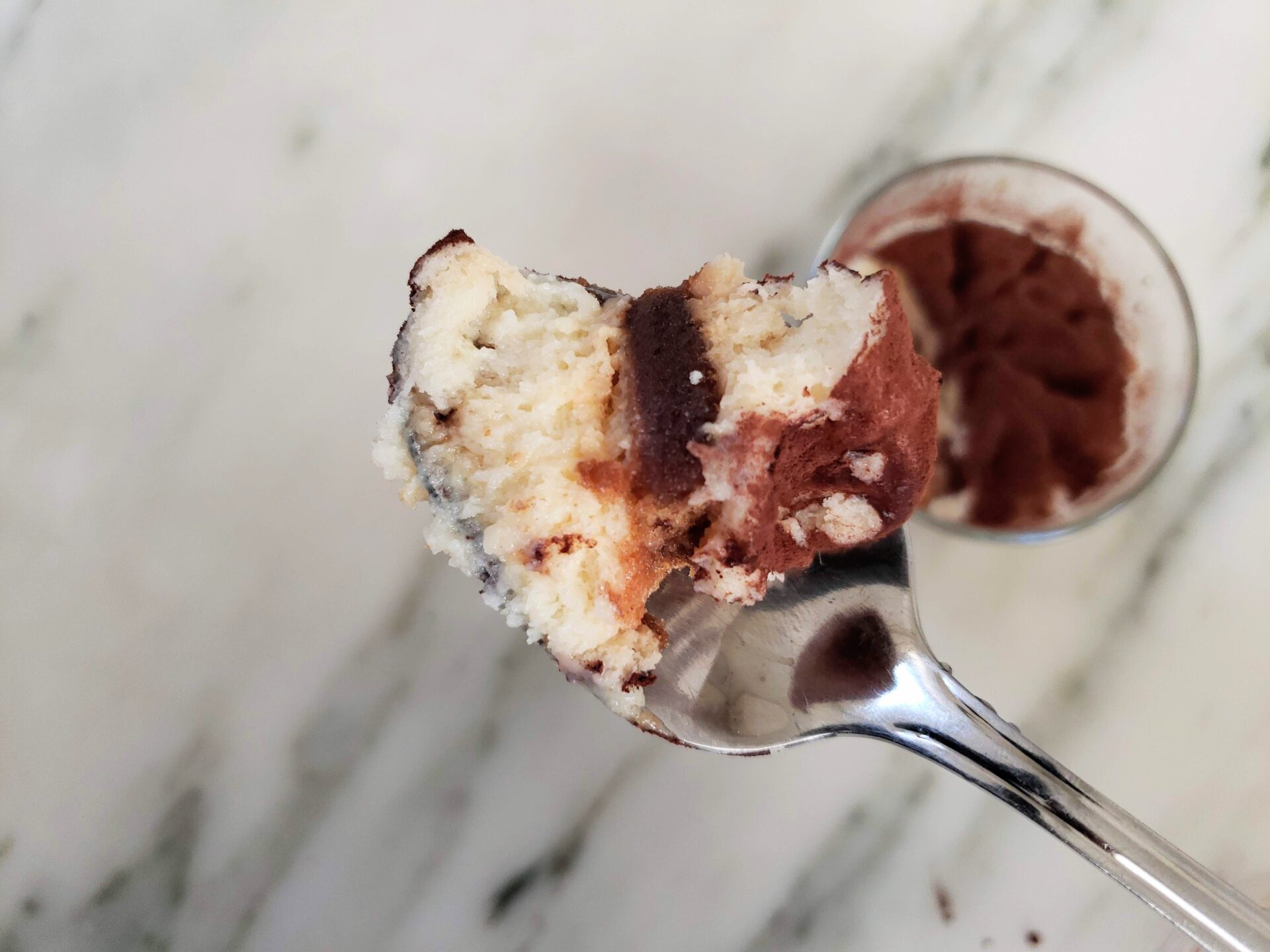 I still very much enjoyed Costco's tiramisu cups, and I would have no problem eating them on my own or even serving them to guests.
How Many Calories in Costco's Tiramisu Cups
Each serving of Tiramisu is going to be 1 glass or 85 grams. Each glass cup of tiramisu contains 210 calories with 7 grams of fat, 32 grams of carbs, and 4 grams of protein.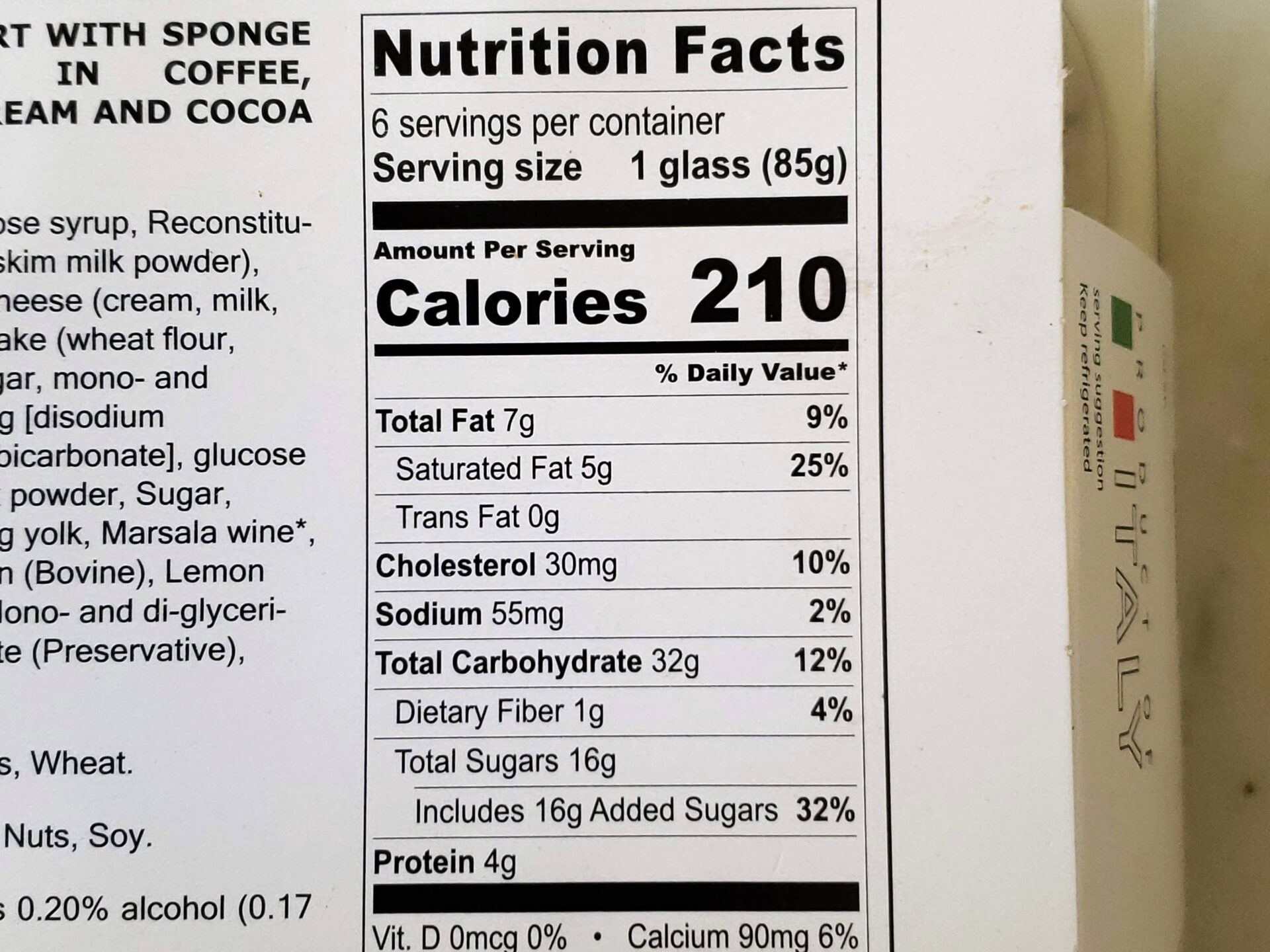 There are 16 grams of added sugars in each dessert cup.
Tiramisu Cup Nutritional Profile Analysis
While the nutritional label isn't exactly favorable, one benefit of the dessert cups is that they are individually sized and pre-portioned.
When you have a cake, it's easy to cut yourself a bigger slice than what you actually need.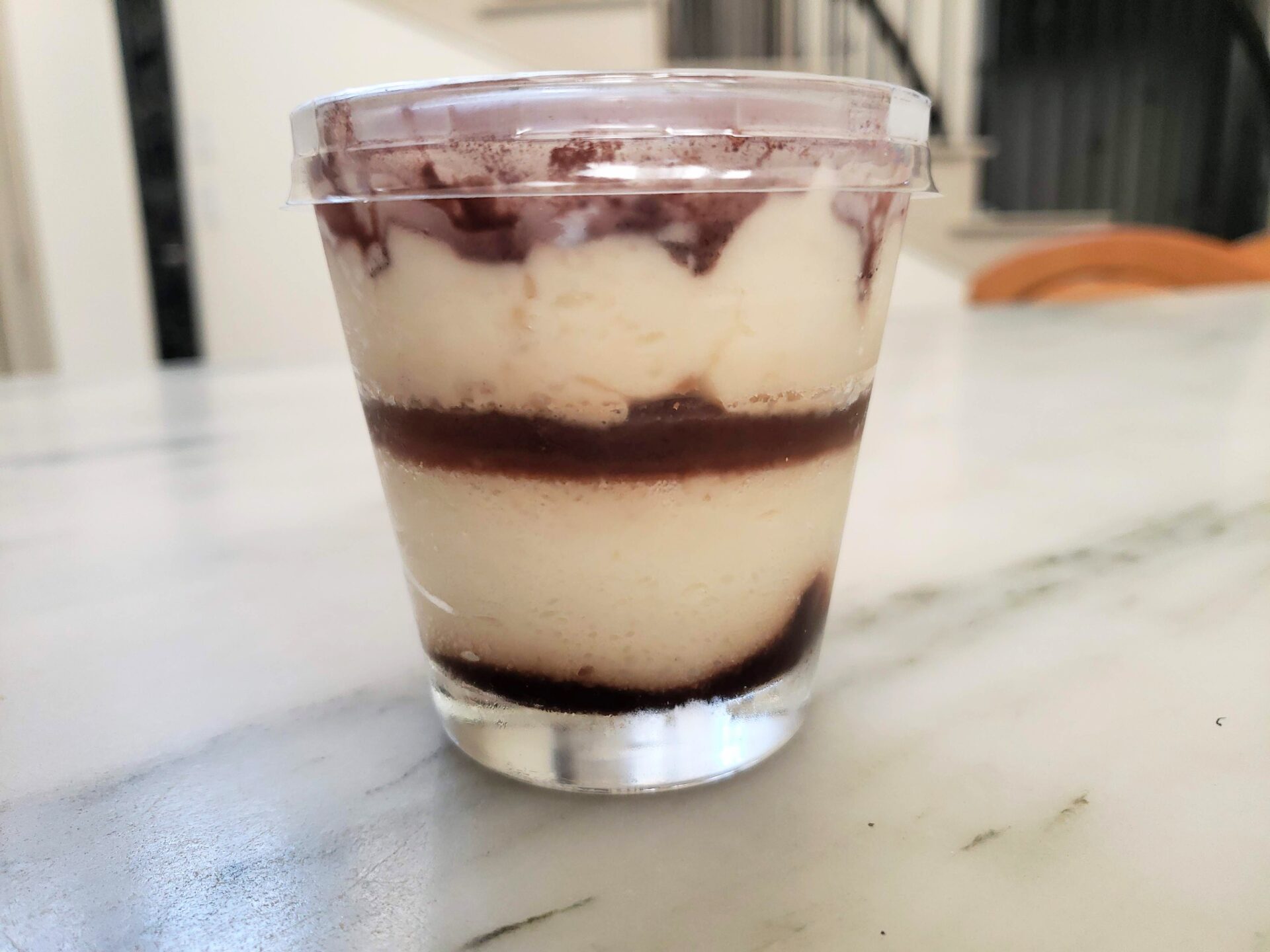 If you are going to indulge and binge on these tiramisu cups, you are going to have to open multiple cups. This is an excellent deterrent from overeating.
It is much easier psychologically to cut a large slice or portion of cake than it is to open and eat multiple individual-sized desserts.
One of the great things about the Tiramisu Cups from Costco is that the glass cups are reusable. They are on the smaller side for drinks but still have a lot of uses.

Many Costco members like to use the glass for alcoholic drinks as they are just slightly larger than a typical shot glass.
They are also great for defrosting and holding the various sauces that come with Costco frozen foods, such as the Tempura Shrimp dipping sauce or the Veggie Spring Rolls ginger soy sauce.
The cups are the perfect size for kids' snacks, such as crackers or goldfish. They also make a great introduction to glass cups for kids, as it won't be the end of the world if they break. (Maybe it will just be another excuse to get another 6-pack of tiramisu).
The glass cups alone are worth the $6.99 price tag, with the tiramisu being an added bonus. Costco also sells a Belgian Chocolate Mousse that also includes reusable glasses.
CopyCat Tiramisu Cup Recipe
While these tiramisu cups are fairly priced, making your own homemade version is possible if you want to go that route. This is a great use of the reusable cups, and you can adjust and customize the flavors to your liking.
Here is a simple no-bake recipe from Rich and Delicious that takes only about 30 minutes to put together.
Costco Food Database User Reviews
Have you tried this item? Let the rest of the Costco Food Database community know what you think. Leave a rating and review for this product.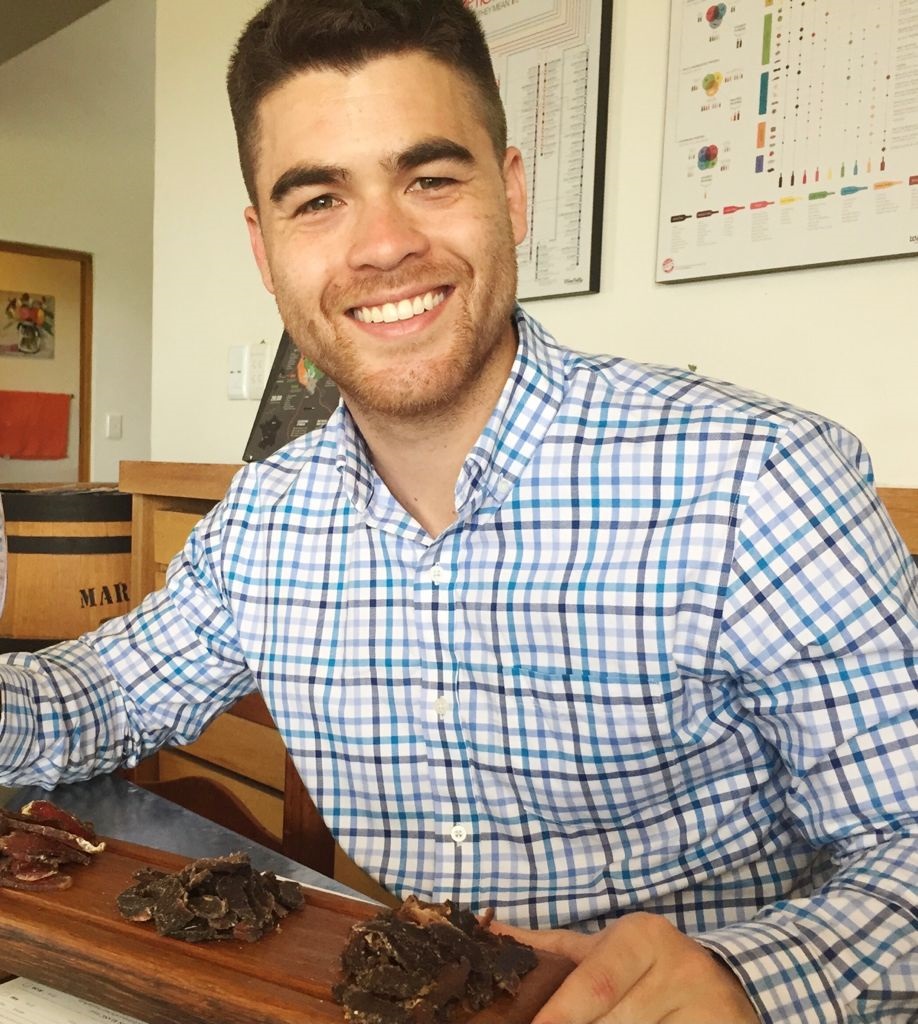 Greg Larkin is the founder and managing editor of Costco Food Database, the premiere site for honest takes on all things Costco food. A self-proclaimed Costco super-fan since childhood, Greg turned his obsession in a mission to properly rate and review all of Costco's delicious buys. When he's not busy navigating Costco aisles, you can find Greg smoking Kirkland Signature meats, meal prepping, or perfecting his homemade jerky recipes.